Last Updated on October 19, 2021 by melissanreynolds
Is an Etsy store a helpful way to create a side income when you are at home with children and a chronic illness?
Since I learnt that working full time was not conducive to maintaining my health I have dabbled with part time work of varying hours and freelancing. When I was put off work sick with pelvis issues at 23 weeks pregnant in 2018, I began looking for potential income generating options that I can physically maintain with three small children.
Over the past three years I have been working on a few streams on income to help support our family. This is one of them.
My Etsy store
I opened
my Etsy store
originally as a way to share my products for fighting fibromyalgia.
My journey has been all topsy turvy and not at all planned. It sprung from realizing that I enjoy designing templates and printable images.
Then I began playing with templates, then affirmations, then planners, then printable art
I started to research how to make a successful Etsy store. I love the
Fuzzy and Birch blog
for tips on making your store successful.
In brief what you need to make a successful etsy store:
Good images
SEO for keywords in tags and product descriptions
At least 20 items
Free marketing
Shop updates
Tools I use for my Etsy store:
PowerPoint
Etsy app
Marmalead
Pinterest
My Listings
I created templates based off what I have used/use in my own journey. My Ultimate Fibromyalgia Wellbeing Planner Kit is a compilation of my most popular and useful ones. I also made sleep diaries, pain management plans and more.
There were some art printables and scripture prints, but they didn't fit with the "brand". The experts recommend separate Etsy stores for different types of products and I don't have the ability to run two stores.
I also created a meals planner, goals planner, paced cleaning planner and more. Once I got into the groove of creation, it came easily to me and I was brimming with ideas. The key is to be passionate about your topic.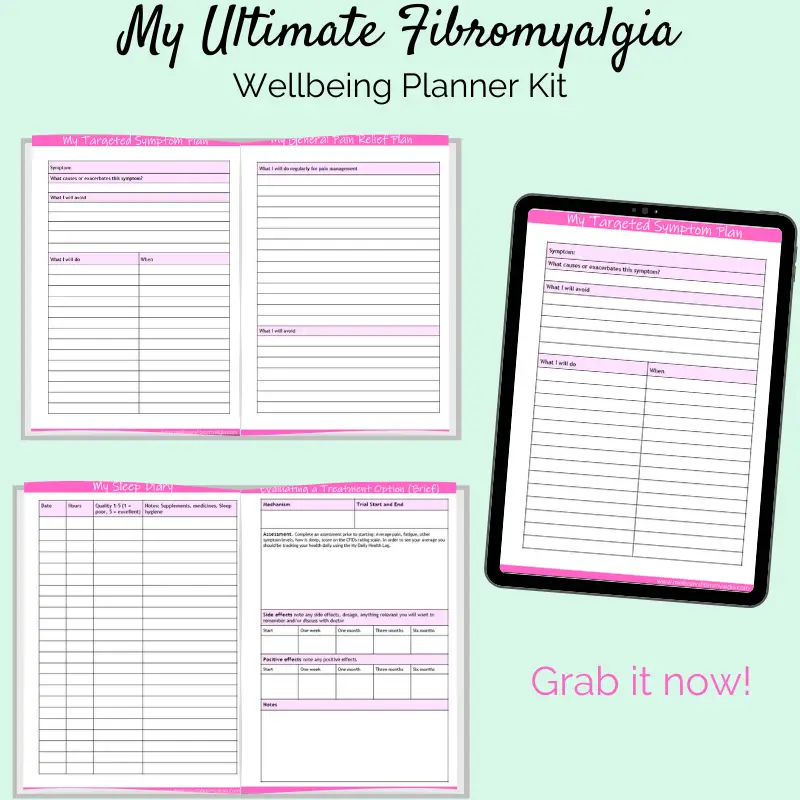 The beauty of my Etsy store is that most of the work is done once I create the listing. So once I have my baby, the store can keep ticking over provided I continue my marketing measures. The product is automatically delivered upon payment so the process doesn't tend to include me. This is the much coveted passive income people talk of so much. Much work done upfront with little (but definitely required) ongoing work.
My home office
My home office is in the landing of the junction of three parts of our house. There is a built in desk with shelves.
My other office is my lounge chair with my phone. Smartphones are an amazing invention for chronic illness and mama digital creators!
How I manage my Etsy store, fibromyalgia, pelvis issues and small children:
I work in tiny increments
Alternate between computer and phone
Ideas go into Evernote
I design in PowerPoint on the computer
At some point I also use the computer to make the listing images, research keywords for the listing and actually create the listing
At another point, using my phone I promote and share listings
If I'm feeling particularly sore, fatigued or have my boys home alone all day I might not get anything done.
Side note: I will not be making my fortune off this. I create products I genuinely use or would use myself. I keep my prices at the affordable end. Ultimately I enjoy it and am learning transferable skills for when I reenter the workforce and any income earned will help us out in the meantime.
Business notes
I already had a company setup from freelancing prior to my last job and I have basic bookkeeping knowledge so the business side of things is less of a learning curve for me, but I still had to research sales tax on digital sales etc. carefully. Make sure you don't get caught out. Create spreadsheets from the beginning tracking income and expenses and document your business practices as if it was a brick and mortar store. Then at year end it won't be so tricky to go through it with your accountant.
For more about making an income with fibromyalgia:
Where my Etsy store was at September 2018:
As at the end of September 2018 I made two sales which covered all of the listing fees of all my new products loaded that month. So anything I sold in October was for a profit (after Etsy's cut). So that was pretty exciting.
I then loaded a few coffee art prints and scripture prints – which I had loads of fun designing – during October to see if that was a direction my store could take. It's all about playing and having fun at the moment.
A serious note re creating products – adhere to copyright, use your own images and words or ensure they are free for commercial use (or pay for this license). I am paying for nothing that isn't necessary until I have made more than I have invested so free is good.
Update January 2021
During the crazy time that was 2020, I was working part-time outside of the home (my husband's work had multiple rounds of redundancies so we needed that backup), had three small children continually in some level of lockdown and became pregnant. So my Etsy store was somewhat ignored. It continued to bring in about $50 a month with little minding (which I don't recommend, but life happens).
This $50 doesn't seem like much, but it helped me to cover the costs associated with running this blog, the yoga and the Etsy store itself.
I did consolidate all of my best selling templates into one easy bundle,
available here
.
I'd love to hear anything you do to create a side income as a chronic illness fighter.