Last Updated on November 17, 2023 by melissanreynolds
After my recent post sharing the 10 free resources that I created for you this year, and seeing all of the end of year sale posts, I decided to take a break from the noise and make it super easy for you to access all of my free gifts that I've created over the years.
My mission is to share what I learn to help you in your journey. I offer research, information and personal experience for you to take into your own health project management.
This freebie vault contains 18 free resources. Including Yoga Nidra guided meditation and a body scan meditation, both of which I suggest you start with. But whatever you need, start with that.
I hope you take the resources and USE them.
Then share it with a friend who may benefit from it too.
Vault includes:
Gentle beginner yoga class
Body scan meditation
Yoga Nidra guided meditation
Introduction to Fibromyalgia
Do I Need to Be Flexible and Other Questions About Yoga
Active Challenge Planner
Nervous System Challenge
Daily Healthy Habits for Chronic Pain and Fatigue eBook (new)
Ways to Make Money Online with Fibromyalgia eBook (new)
Get On Top of Chronic Pain and Fatigue eBook (brand new never marketed before!)
and much more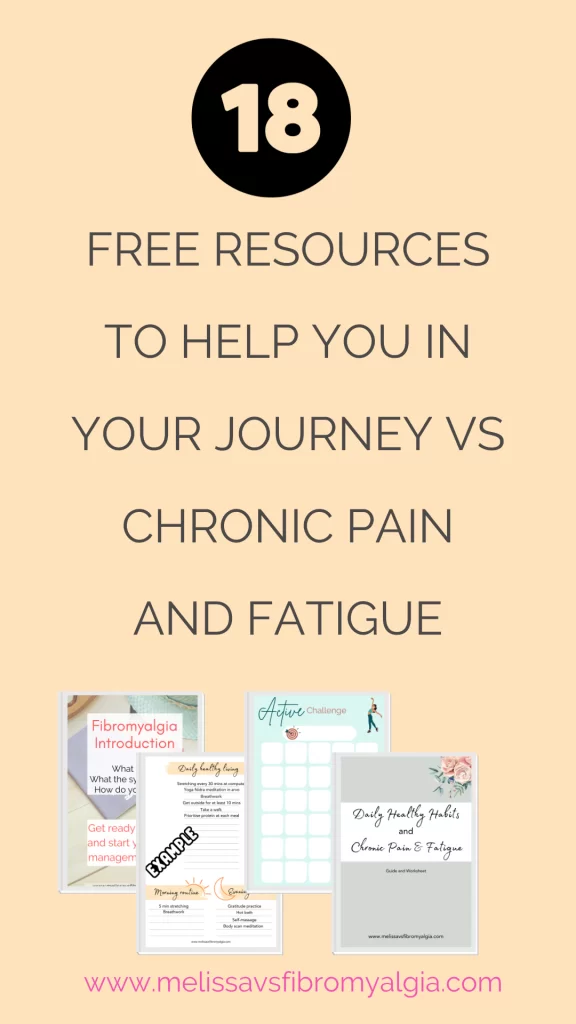 Affiliate notice: Some of my links may be affiliate links, if you make a purchase using these links I may make a small commission at no extra cost to you.
If you want more help
This blog has over 300 blog posts
I share my whole journey in my book
Get On Top Of Your Life journal is designed to help you plan your day in a paced manner, using data from your daily health log.
For more support you can join our free Facebook group Us vs Fibromyalgia.